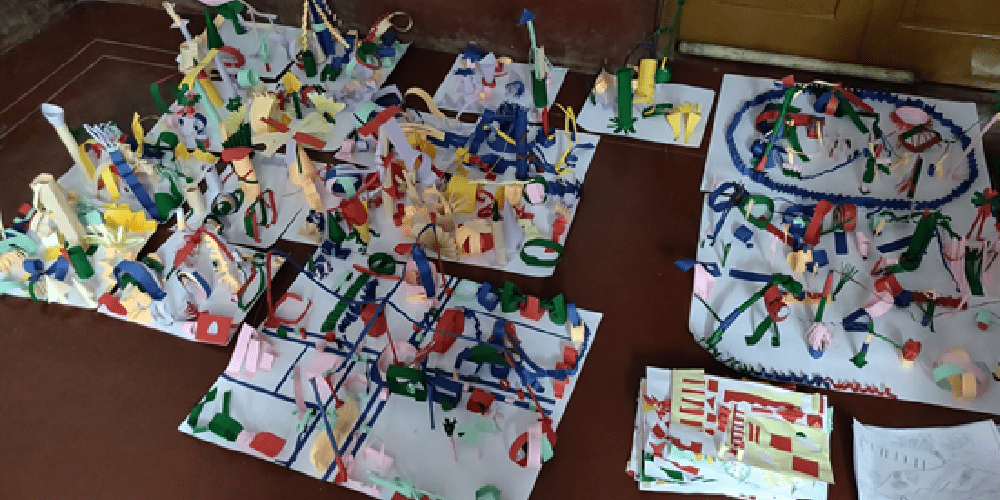 Reminiscing about our days at school, one memory that rings clear is of a class we would never miss, come rain or shine. A class in which we put away notebooks and pens, and pulled out large white sheets of paper, paints and brushes, and coloured pencils. The ART class. A class where we would feel free… but to an extent. Perhaps the journey in the world of still life, of scenic views, gave rise to an exploration into our creativity, but that was okay as long as we coloured within the lines we drew, use the right colour for the right object, and did not make mistakes – lest our work be judged without affirmation.
This hereditary hesitation had to be transformed somewhere. Our concentration on the holistic development of the child led to us organising a workshop for our facilitators on the subject of Art as a Medium of Instruction. But… before our facilitators could guide children through art, they had to be students themselves. This came with the expectation to unpack past learnings and start anew. We'll tell you how this happened.
One of the tasks assigned to our facilitators was to draw a picture of scenery. Now, our mind automatically tunes itself to draw a mountain, a river, some clouds, a tree or two, a few V-shaped birds. "Go ahead with what you'd like to draw as scenery", our facilitators were told. "But, do not use an eraser."
Do not use an eraser. Unthinkable! What if we made a mistake? There lay the first eye-opener for our facilitators. Mistakes happen when rules, procedures and processes are not followed. Do rules, procedures and processes exist when one is to draw one's own perspective of scenery? One of the first lessons of this workshop was that there is no such thing as a mistake when on a creative pursuit. Once that 'restriction' was uprooted, the imaginations knew no bounds!
Now, when there are new lessons learnt, it's always a good thing to reflect upon it – reflection is a key component of holistic development. For many of our facilitators, reflection was a new experience… so much so that they took the opportunity to reflect upon reflection itself! This workshop enabled our facilitators to view art from the eyes of the children they would teach – what methods worked, what methods would need review. Our facilitators were also introduced to tools to assess a child's progress while imparting holistic education. This, followed by accurate and constructive feedback, forms the cornerstone of the holistic development of the child.
An important reflection from our facilitators was that when it came to exploring one's creativity, there is no dearth of resources. One can apply oneself to use materials that are available within one's grasp to bring the best possible expression of one's imagination. Once these materials are before us, a step-wise plan gives us the ability to explore and create without difficulty.
At the end of the workshop, our facilitators were exposed to a wide variety of media and materials, and that guiding children without placing boundaries goes a long way in open expression and raised self-confidence within children. There are no mistakes, only alternatives to a way forward!