Anita* was looking for a place where she could learn some basic computer applications to help her get a job. Her friend Ravi* told her about a place which was offering a course that taught basic computer skills – free of cost! Jumping at the idea, Anita rode her scooter and parked by a building which had a board that said Yuva Café. "A rather odd name for a place where people learn about computers", she thought. She went in, had a chat with the teachers there and began her lessons. Observing what was happening around her – deeper conversations between the students and teacher, lessons on how to speak English with greater effect, a small library covering a variety of subjects – she realised that Yuva Café wasn't just a place to get some basic computer knowledge, there was a whole lot more!
Now, the term Café evokes myriad settings. A place to get a quick coffee. A place to catch up with friends. A place to begin your startup. A place to read. A place to contemplate quietly. In the same manner, Yuva Café as a concept was set up to serve multiple needs of youth, all under one roof.
Through Makkala Jagriti's flagship program for youth, Yuva Jagriti, we set up two Yuva Cafés in Bengaluru – in Malleshwaram and Halasuru – safe spaces for youth to explore their dreams, enhance their skills, and find themselves!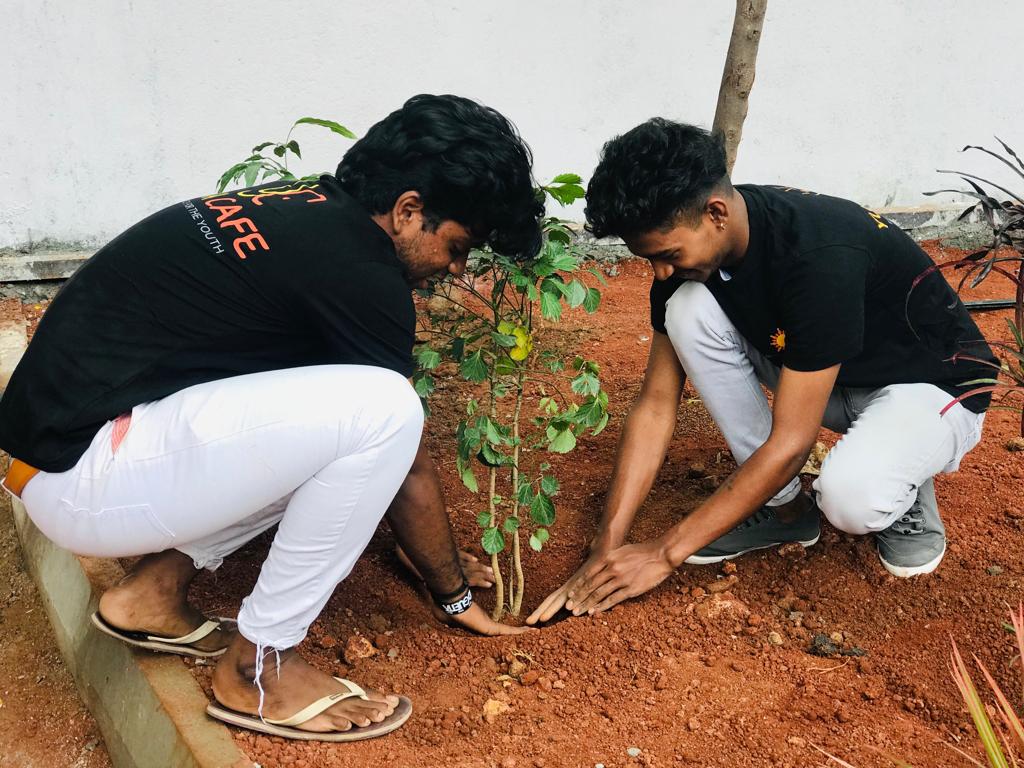 Teenage is often described as a crucial time, a time that bridges childhood aspirations and life as an adult. It is at this time that academic and career decisions are taken. What helps further is an understanding of options that lie ahead, without the constraint of expectations and peer pressure. Yuva Café becomes the ideal place for all of this to happen, with such guidance mixed with fun and games.
Key contributors to youth empowerment are academic support and scholarships. When there exist certain difficulties in grasping a subject, they can turn into causes of lack of motivation to move on ahead. This is where academic support plays a major role in ensuring the youth stay enthusiastic and motivated with their studies. Scholarships for academically strong students, meanwhile, ensure they do not discontinue their studies for want of funds. All this, combined with mentoring, helps the youth choose a path which is right for them. Take the story of Arjun*, for instance. Arjun has been strong with his studies. However, the financial situation at home was quite difficult, leading to a situation where he would have to discontinue studies after high school and take up a job to support his family, as there were no funds to help him with his higher studies. Because of his academic performance, Arjun gained a scholarship through Yuva Jagriti, and is now well on his way to studying for the National Defence Academy entrance… a few steps away from a career in the Indian Armed Forces.
Speaking to community leaders, one common gap often expressed is that of skill development for job readiness. In under-resourced communities, where opportunities are few but dreams are many, it takes but one avenue to bridge that gap… and many a youth has found that avenue in Yuva Café.
A detailed look at what happens at Yuva Café shows a wide range of courses that contribute to youth development. Programs in computer training, spoken English proficiency and life skills are among the popular draws for youth, and these programs are available without any prerequisites. Students who have discontinued school studies owing to a variety of circumstances have the opportunity to seek support at Yuva Café, do what's needed to catch up on their studies, gain guidance on available pathways that match their interests, and successfully obtain their high school leaving certificates.
But then is it all about finding what you want to do in life and figure out a way to achieve it? No, there's a whole lot more. Just a little earlier, we spoke about how crucial one's teenage is. Circumstances do have an impact on youth – traumatic events are hard to shake off well into adulthood, and the difficulties that arise out of the aftermath do get in the way of a youth's progress. Yuva Café is one safe haven that provides a judgment-free space with access to professional counselling and guidance.
What one can gain at Yuva Café is not limited to the physical space that houses the Café. Before the pandemic, the youth got to participate in a number of activities outside the Café too. One activity that springs in the memory of every youth is the outbound excursions to sights in and around Bengaluru. The takeaways from such excursions included the importance of teamwork, punctuality, empathy for the needs of one another and increased self-confidence.
The youth have also had opportunities to visit offices of multinational companies. With many of our youth aspiring to work at such companies, it was a great experience for them to feel the work environment for themselves and make more informed decisions going ahead. Through these companies, the youth learned about working in dynamic teams, time management, and a wider range of career opportunities beyond their imagination!
Parents are thrilled with the sea change they've seen in their children after spending time at Yuva Café. We've heard from parents who said their kids are a lot more helpful at home, do their chores without being told and contribute to household decision-making too.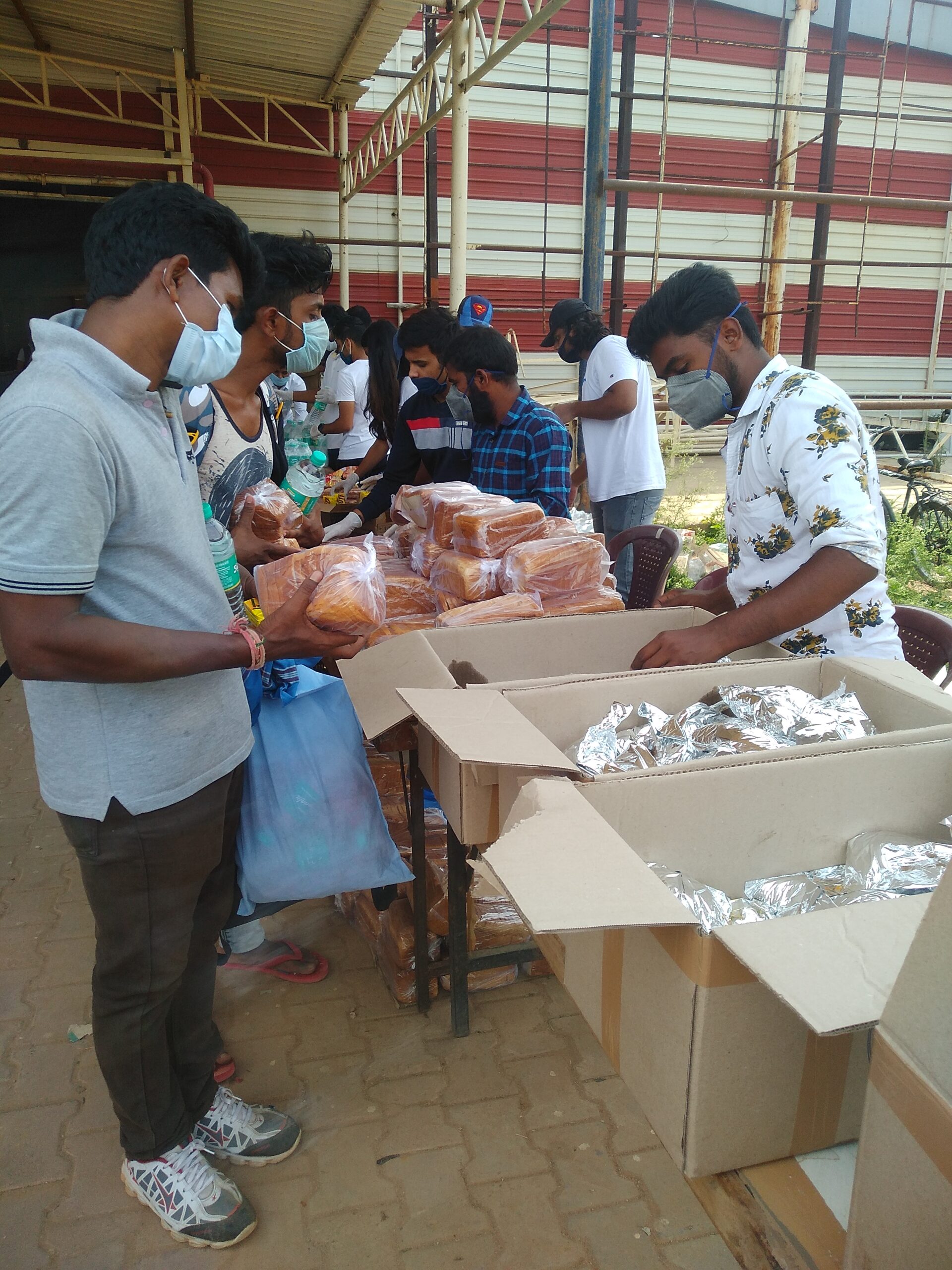 Yuva Café has also opened doors to youth, especially young women, who've had a gap between jobs or right after completion of studies as they began to grow their families. It can be quite challenging to get back into the workforce after such gaps. That's where a stint at Yuva Café helps. With youth empowerment programs at hand to provide skill development, which further ensures youth catch up with what employers look for at the time, the youth gain a great deal of confidence that they can compete in the cutthroat world of job-searching. What's more, Yuva Jagriti has attracted employers from across the spectrum to participate in job fairs organised by us, and that has thrown doors wide open for our youth.
The aspirations of our youth are not restricted to employment alone. Some have inclinations towards starting their own businesses, while some are determined to be in positions of service to the nation and the community. Among the youth currently connected with Yuva Café, we have aspirants for the Armed Forces, Administrative Services and Police Service too.
The pandemic certainly threw a spanner in the works as far as engagement was concerned. However, Yuva Jagriti's team of determined facilitators ensured everyone was connected online and available for sessions over the web – distance may have gotten between us all, but the hunger for knowledge and fellowship brings us back together. In spite of being away from the physical space of Yuva Café, the essence of Yuva Café prevailed in the youth and the excitement to carry on with their pursuits went unhindered. What's more, the urge to help the communities they live in took over the youth, and they donned their volunteer hats and actively participated in fundraising and grocery distribution drives to ensure no one in their surroundings were left behind.
At the end of the day, these words from the youths themselves say it all:
"This is the best place to change your life." – Apoorva*, working towards a career in electronics.
"If you want freedom of expression and the freedom to learn what you want, join Yuva Café. This is a safe space to build yourself in spite of past difficulties." – Rajeev*, who ensured no home in his neighbourhood was without basic groceries during the pandemic.
"Yuva Jagriti is very important, as it is a space to improve lives. My life has changed, it has become more beautiful, and it has exposed me to my own aspirations." – Shreeja*, a mother-of-two working towards a return to the workforce.
"You will be taught well and with empathy. This is a good place to be." – Saraswati*, who aims to become a senior police officer one day.
"Find your skills and capabilities by joining Yuva Jagriti; it'll open a whole new world for you." – Ruchi*, on her way to becoming a mechanical engineer.
*Names changed to protect identities