Transforming Anganwadis to bring quality Early Childhood Care and Education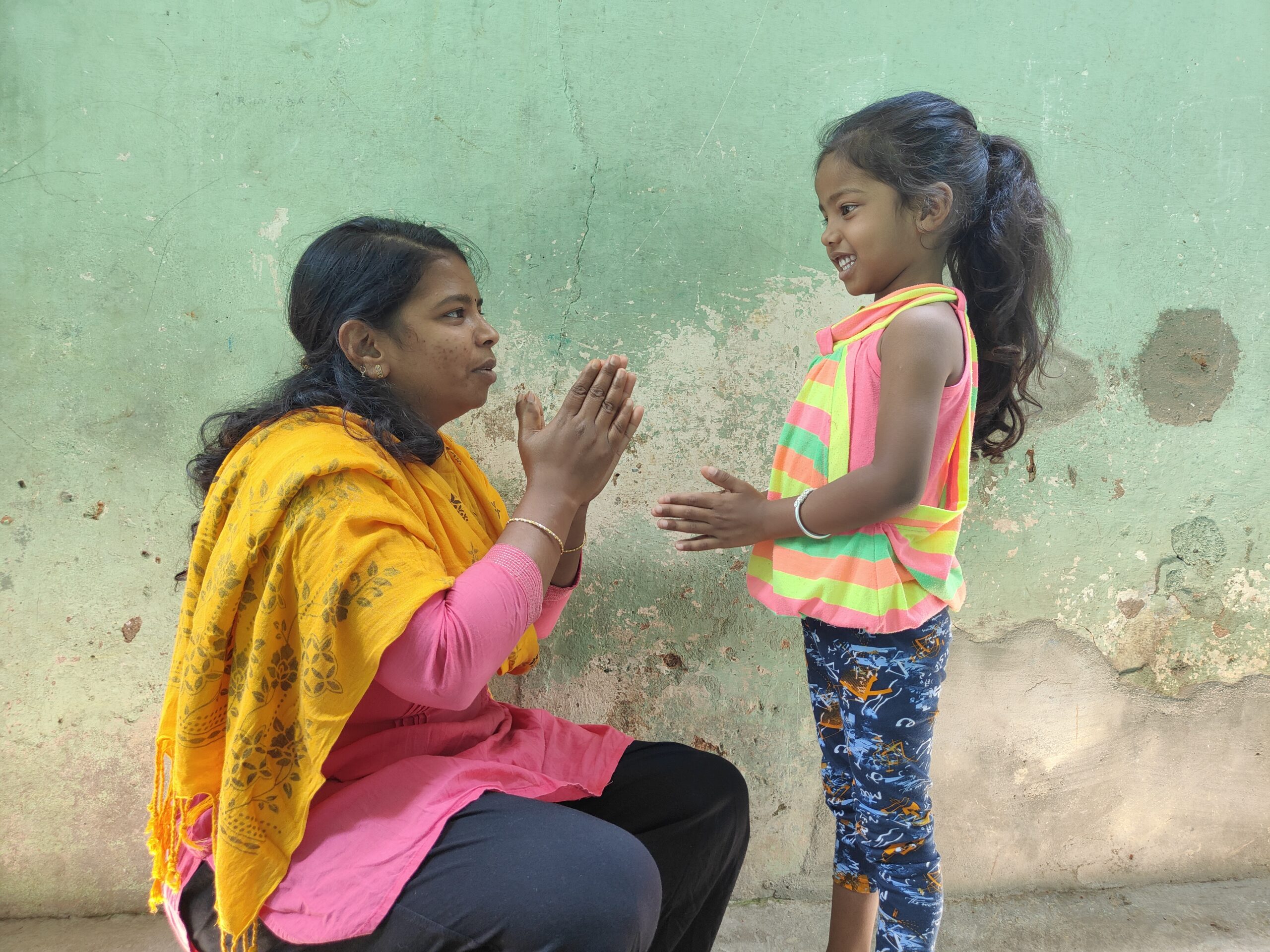 Every child deserves a fair start. Research shows that most of a child's brain development happens in the first 6 years and builds a foundation for future learning, health and life success.
Various global studies have also revealed long-term impacts of early childhood care and education (ECCE). There are strong correlations between quality preschool education and higher incomes and lower rates of unemployment. Estimates reveal that the development of a strong ECCE program is among the very best investments that a country could make. ECCE promotes equity, giving the best chance for children to grow up into thoughtful, creative, empathetic, and productive human beings.
Anganwadis are the primary institutions in India that provide early childhood care and education for children in early years.While the government has been addressing the health and nutrition needs of these children through Anganwadis under ICDS, the early education component needs more attention. ECCE, being a great equalizer amidst inequities, the early learning component in Anganwadis needs strengthening through capacity building of Anganwadi teachers to impart age-appropriate pre-school learning,equip parents to enhance their involvement in the child's early learning. Further, ICDS-supervisors need to be equipped to monitor the quality and outcomes of early education.
Makkala Jagriti, A Bangalore based NGO has been working with children from socio-economically disadvantaged communities for 19 years now. In the work with government schools and poor urban communities, Makkala Jagriti noticed that children who came to the school at the age of six years were just not school-ready. They lacked the necessary fine and gross motor skills, cognitive skills and socioemotional skills. All these showed that the Anganwadi system was not able to offer the required stimulation for different domains of development.
This prompted us to work with Anganwadis in partnership with the Department of Women and Child Development.
This prompted us to work with Anganwadis in partnership with the Department of Women and Child Development.
We have three main focus areas for bringing about quality Early Childhood care and Education and school-readiness among children.
First, creating safe, vibrant and conducive environments in Anganwadis:
This is an important first step to ensure that the centers are functional, safe and well equipped, with the right age-appropriate materials and environment for pre-school learning.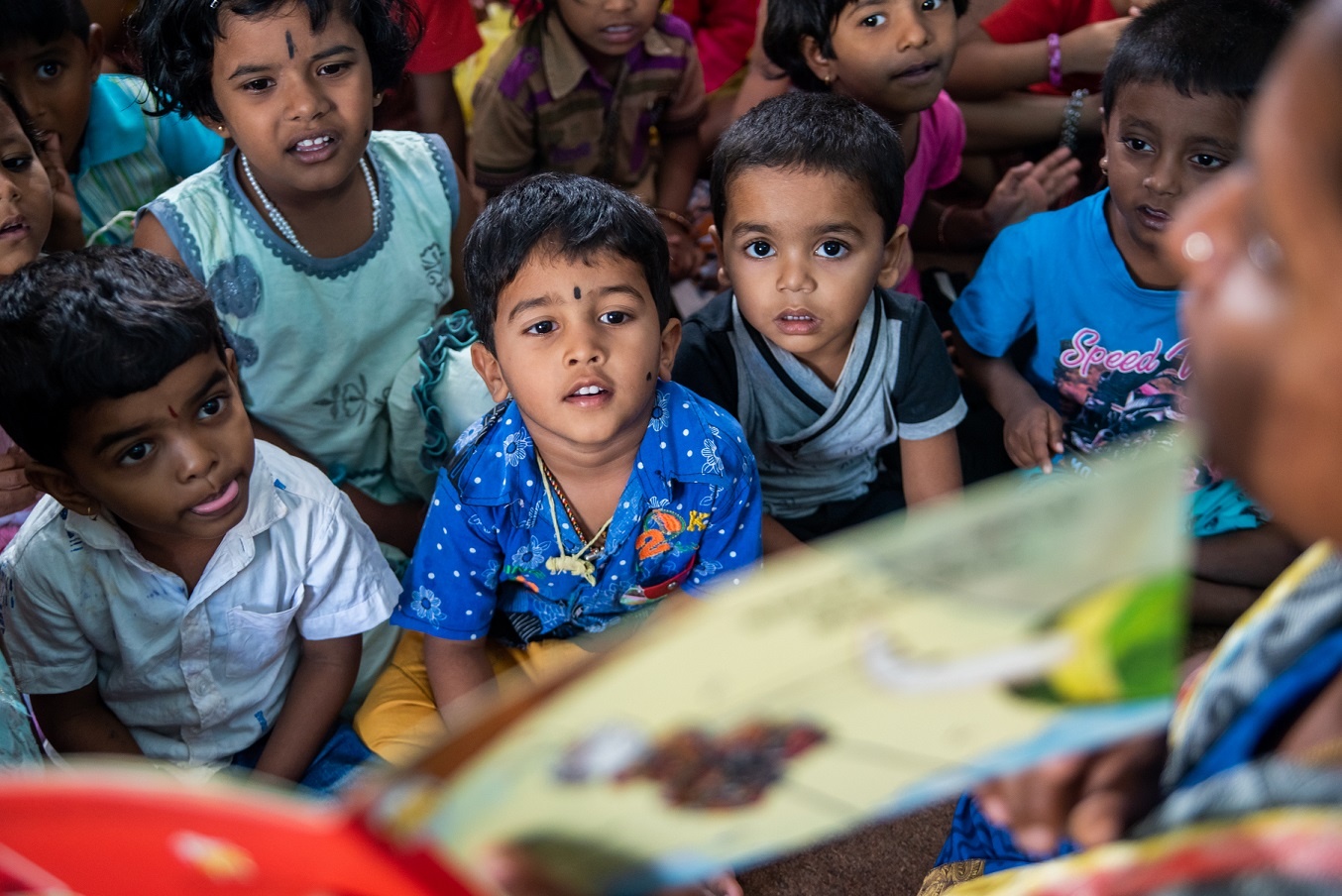 Second, building the capacities of Anganwadi teachers, Anganwadi helpers and supervisors through formal trainings, mentoring and handholding. They are trained on the importance of their role, importance of early years and on every domain of development for early years.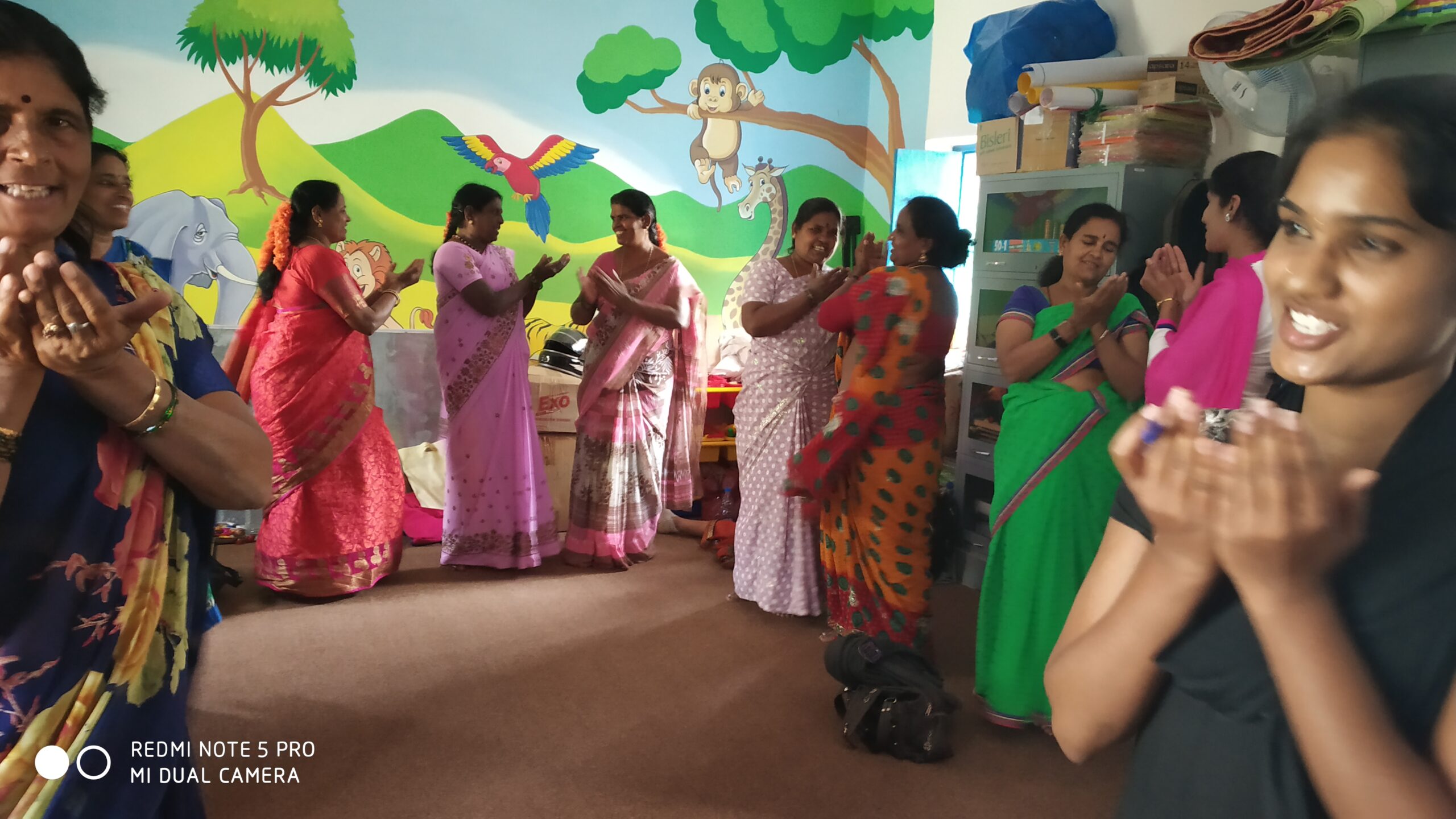 Third, empowering parents and communities to be effectively involved in children's learning process and in the Anganwadis' functioning: It is not enough to focus on the Anganwadi system only. Parents and communities have a huge role to play, especially in the early years. Parents are trained to create conducive home environments, provide early stimulation at home and nurture children's development meaningfully and thoughtfully.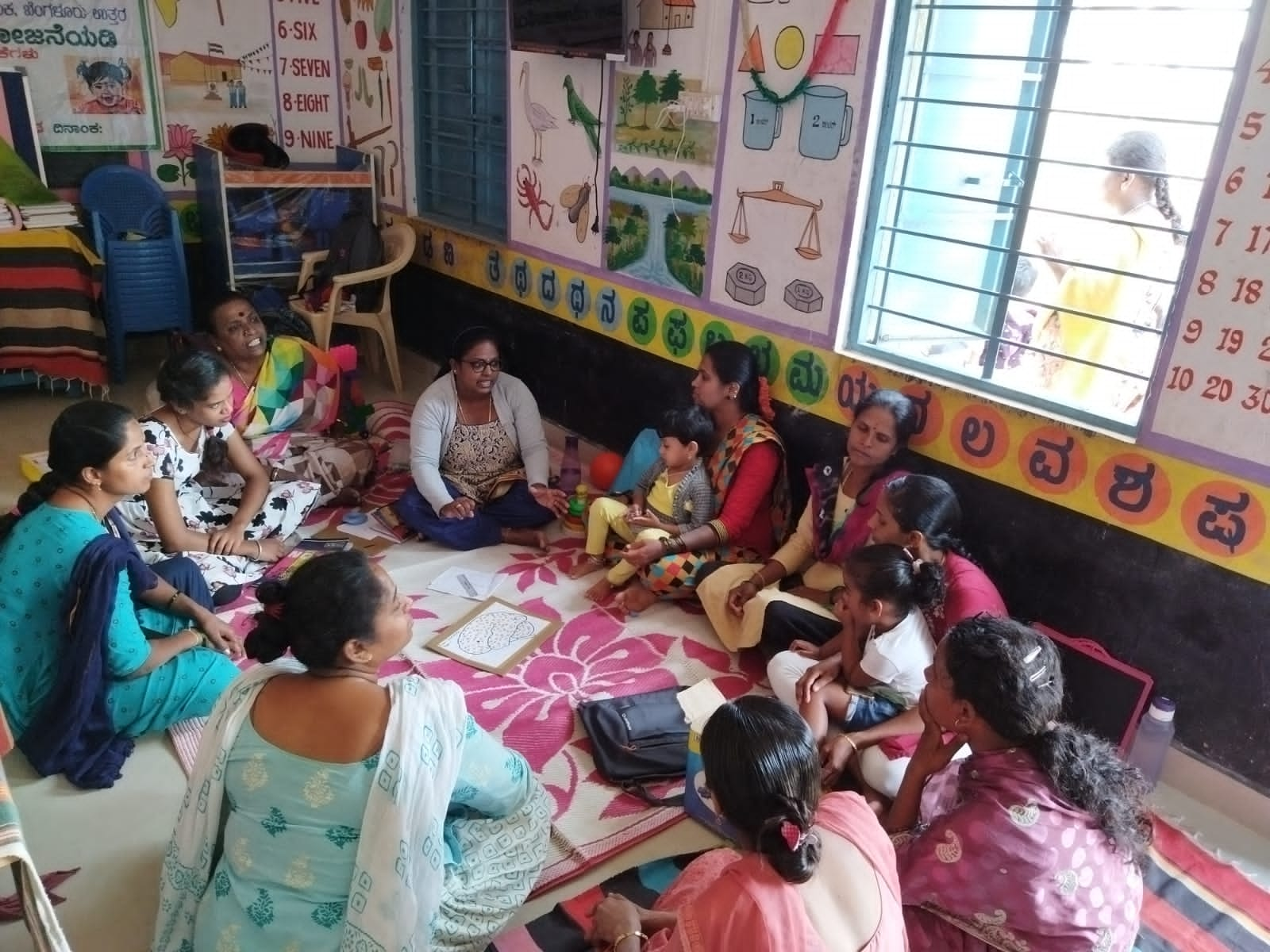 Makkala Jagriti's experience with 300+ Anganwadis have resulted in enhanced school readiness among thousands of children, enabling them to cope up with required learning levels throughout their school years and beyond.
Ecosystem Approach :Makkala Jagriti recognizes that multiple stakeholders need to be sensitized and empowered for sustainable and effective change to take place. Consequently, the project employs an 'ecosystem approach' wherein all stakeholders who can influence quality early education of children in Anganwadis are involved right from inception through an inclusive and non threatening approach. Practices like shared visioning, collective thinking and empowerment through training and capacity building equips all the stakeholders to play their roles more effectively.

These stakeholders include the Anganwadi Teachers (Workers), Helpers, ICDS Supervisors, Parents and the larger community. While the capacity building of ICDS functionaries helps create a conducive space and institutionalization of good ECCE practices, the work with parents and the larger community is instrumental in sensitizing them about their role in their children's education and create demand for quality education. The right to early childhood education is as important as the right to education, if not more.

Build-Monitor-Transfer approach for sustainability:There are distinct phases of the project that we undertake which are classified as Build, Monitor and Transfer. Through the first phase, the necessary capacities are built among Anganwadi teachers and other stakeholders along with putting the appropriate resources in place. This is followed by handholding and monitoring so that best practices in early education become a routine while allowing the creativity and leadership of the functionaries to thrive. The third phase includes a focus on further institutionalization of the practices in the system and advocacy so that quality early childhood education is not just prioritized, but becomes a way of life.

Leveraging policy: The NEP-2020 rightly underscores the importance of early childhood education and Karnataka is the first state to start the implementation of the NEP. We are conscious of the opportunity and leverage the same so that we are able to create scalable and replicable models for the state to adopt. From a policy standpoint, it is a conducive time for implementation of this project so that the knowledge, experiences and evidence generated from the intervention can be put to larger use.
Data driven implementation with conscious use of technology: We have a strong M&E component with assessments of children, Anganwadi teachers, helpers, parents and even the grading of Anganwadis at key points in the course of the intervention. These assessments inform tactical and strategic changes needed, if any, on a regular basis. We are also conscious about using children assessment formats prescribed by the Ministry of Women and Child Development Govt. of India, which are developed by UNICEF and CECED, Ambedkar University. We use technology for digitizing and analyzing the data and also for communication across the stakeholder groups. Promotion of digital literacy by empowering Anganwadi teachers to optimize the use of Smartphones to streamline and simplify their work is a component integrated in the program.

A bouquet of innovations: Various innovative ideas have been a hallmark of our experience in implementing ECCE programs. These include creation of more than 350 short videos (in Kannada) on domains of children's development with relatable content for parents and Anganwadi teachers, sensitization and involvement of fathers, bringing focus on ECCE in parents' meetings conducted by the Anganwadi teachers, setting up of Toy libraries where parents can borrow toys and books, large-scale community events(Mela/Habba) that celebrate and create mass awareness on early childhood education.

One of the most important and unique practices of our program is to address Anganwadi workers and Helpers as co-teachers. This has boosted their self-esteem tremendously and is directly instrumental in the functionaries taking up ECCE seriously. From our perspective, it is a small act of giving the nation's inimitable frontline workers their due.

We gave Anganwadi teachers badges which said 'Proud to be an Anganwadi teacher' . Nagarathna, an Anganwadi teacher said that no one had ever called them as a teacher and MJ helped give them a representation. She also said " people see my saree uniform and identify me as an Anganwadi worker but from today I will wear the badge daily so they also know that I am their child's teacher

Organizational culture, capabilities and relationship with the Government: Makkala Jagriti is a 19-year old organization with a strong practitioner experience in providing holistic development opportunities to children from socio-economically disadvantaged backgrounds. We are a learning organization whose guiding principles include being child-centric, creating a non-threatening environment and fostering a culture of inclusion and empowerment.

We have a proven capability of undertaking large programs and our experience in ECCE includes working with over 300 Anganwadis directly both in urban and rural settings and conducting statewide programs virtually. The unique contribution we could make in partnership with the Department of Women and Child Development, Govt. of Karnataka during the pandemic was to reach early childhood learning to lakhs of children across the 66,000 Anganwadis of the state and make an impact in their formative years through a Learning at home initiative called ' Maneyalliye Oota, Maneyalliye Paatha' launched by the Hon. Minister of Women and Child development. Makkala Jagriti has been regularly identified as one of the credible organizations by the Department of Women and Child Development, Government of Karnataka.

With the above approach, one could apply the best practices of early childhood education making the 'right to quality education' a reality for a marginalized and deprived population, in the truest spirit and intent.