Instilling courage, health and confidence among children in institutional care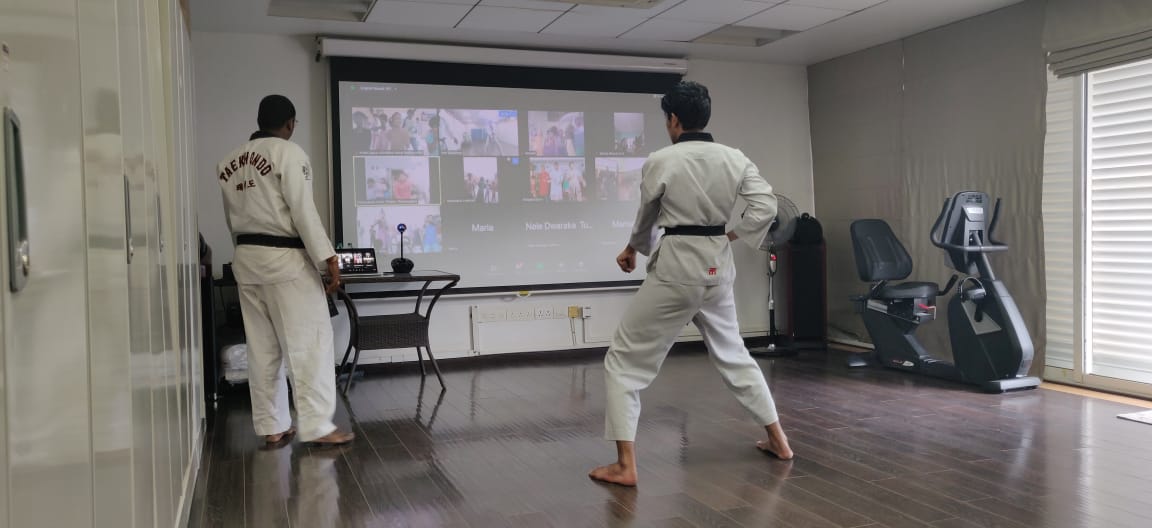 What are the most important things that a child needs to secure a good future for itself?
It would not be surprising if the answers include good health, a nurturing and caring family, education, values, opportunities and a safe, positive learning ecosystem. No doubt all of these are important and yet, there are many in our society and the world at large who are deprived of these for various reasons. In fact, there are many children who witness conflict within and outside their families, risky situations, neglect and injustice. And when a child's impressionable mind witnesses all these, one can only imagine how it affects its sense of confidence, self-worth and ability to grow.
With the United Nations Convention on the Rights of the Child (UNCRC) as well as India's Juvenile Justice (Care and Protection of Children) Act asserting that the institutionalization of children may be used only as a measure of the last resort, we are unfortunately faced with the situation of having many children staying in institutional settings. Child Care Institutions (CCIs) are an important component of the child protection system with different kinds of 'Homes' housing children from different circumstances and having different needs. And while they do provide care and protection, the institutions may not necessarily be the best learning ecosystem for a child's holistic development.
Makkala Jagriti's motto: Where a child is born should not limit how far it should go perhaps applies most critically to children in institutional care and has inspired the organization to engage with CCIs towards providing holistic learning and development opportunities to the children staying there. Using the SPICE model – an approach and curriculum that covers the Social, Physical, Intellectual, Creative and Emotional development aspects – MJ's facilitators have been engaging with the children in CCIs through activities and experiences since 2007 with the support of the Department of Women and Child Development, Government of Karnataka.
When the pandemic struck in 2020, the learning and exposure opportunities for children in CCIs were severely limited. This prompted a partnership with the Department and the launch of a special initiative to virtually engage with children of CCIs across the state. Entitled Project Ullasa, the initiative involved creating and sending lessons and activities for engaging children in CCIs every day, conducting live online activities with children on topics of their interest and well-being and empowering the staff of the CCIs for qualitatively better engagement with children through online workshops and sessions every fortnight. More than 2 years on, Project Ullasa continues to this day with regular online activities for children and staff of CCIs.
Project Ullasa has provided many first time and unique experiences to the Children of CCIs. One such of the unique activities in this project has been conducting online Taekwondo classes for children in CCIs in partnership with Bhairavi.
Bhairavi (Bhairavi.org.in) is a social initiative that is on a mission to empower underprivileged children with the tools and techniques to lead lives of confidence, dignity and health through the martial art of Taekwondo.
The heart and hands behind the initiative include Ved, and his elder sister Neha, who, deeply felt from a young age that they are a privileged minority and there are large numbers of vastly less privileged children. They started Bhairavi in 2013 when Neha was barely in her teens and Ved was less than 10 years. Since they had been training in Taekwondo, they saw the opportunity to empower marginalized children through teaching them this martial art. Neha and Ved started teaching, along with support of their Taekwondo master, in government schools in partnership with Makkala Jagriti before expanding the engagement to other spaces.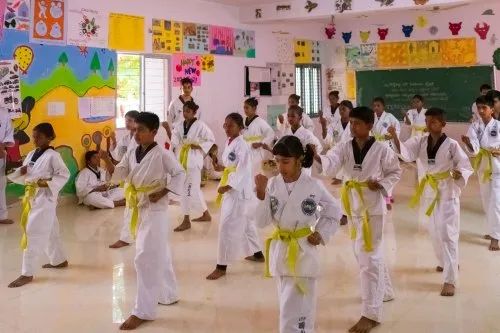 In August 2021, when the shadow of the pandemic was still not fully lifted from our lives, Makkala Jagriti partnered with Bhairavi to provide Taekwondo sessions to children in child care institutions online – a truly unprecedented experience in every sense. Project Ullasa was the perfect vehicle to launch the initiative and the support from the Directorate of Child Protection to ensure that the program is carried on forthwith was exemplary.
There were some initial challenges – getting a suitable time-slot that suited most CCIs, internet connectivity issues, apprehensions from some of the CCIs whether the knowledge of martial-art would be abused, etc. There was apprehension about teaching the children online itself because of limited exposure of children to this medium. However, over a period of time, things settled down and a regularity or participation kicked in.
Maria Ashwini Prathima Senior Coordinator, Makkala Jagriti says "…we were unsure of how the CCIs, and children would respond to the sessions… we are now seeing that the children are taking leadership in handling the sessions". Part of the reason for the success of the program is that Ved and Nagarjuna introduced fun elements such as music, dance, encouraging children to lead sessions and so on. This was to keep children better engaged; but equally to make this an hour of fun learning recognizing the beneficial effect it would have on the mental mood and morale of the children especially in the tough Covid times where children had almost no social and physical activities."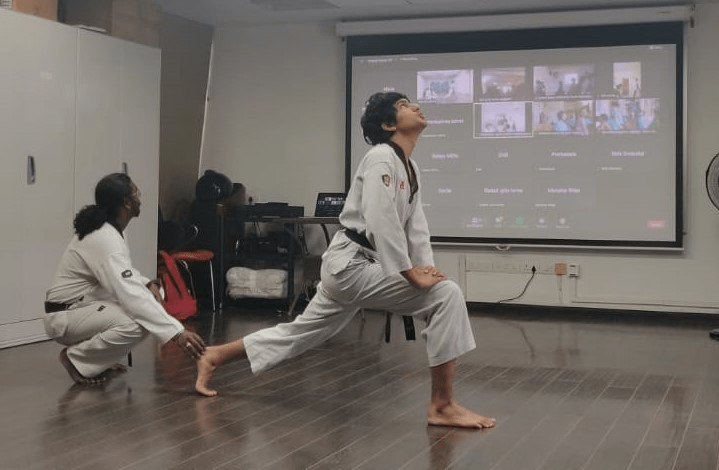 Consistency is the key. Ved along with Master Nagarjuna of Asian Taekwondo Academy have been taking the weekly 1-hour virtual class consistently so that it has become ingrained in the time-tables of the CCIs. Week after week went by and in August 2022, we had completed a year of the intervention, with many children and Child Care Institutions continuing to participate regularly and enthusiastically.
The sessions were extremely useful to children in the pandemic times as it helped them release their stress levels while developing confidence and good health. Along with other live activities under Project Ullasa, this has also contributed to the sense of community among children in CCIs as they see other children like themselves on the screen. Especially in the pandemic, this was very important to alleviate their sense of isolation and a sense that their world is not limited to their own CCI.
Ms. Kavitha S, a senior officer in the Directorate of Child Protection says "From the last 1 year, Taekwondo classes have been conducted for children of CCIs as part of Project Ullasa. This has really helped children in maintaining their physical health and self-defense. All the participating children have shown great interest in learning this martial art. Most children have expressed that this program should keep continuing and not be stopped for any reason.".
We are happy to see the children reflect upon their experience and share how Taekwondo is not just a physical activity but a means to help them feel more confident and develop a good attitude towards health.
"I like doing Taekwondo as it makes me happy, relaxes my mind and I can also revolt in case of injustice" – Ruchi (name changed), 8th standard.
Never missing an occasion to celebrate, on the 9th of September, 2022, Makkala Jagriti and Bhairavi with the support of the Directorate of Child Protection organized an online event to appreciate more than 700 children across 37 institutions in 17 districts who have been consistently participating in the sessions. The children were awarded certificates of appreciation and we are sure they will treasure it and it will be an inspiration for others.
Team Bhairavi as well as Makkala Jagriti are thankful to the Directorate of Child Protection, Govt. of Karnataka for the opportunity to touch the lives of thousands of children in a unique and impactful way. According to Ved and Nagarjuna: "When we hear from children like Ruchi, and realize the impact we are having is not only on their physical and mental well-being, but also providing them the confidence to demand and create an equitable society in the future, it feels deeply satisfying and joyous!". It certainly inspires Makkala Jagriti as well to put all its efforts to ensure continuity of the initiative in the long run.