Micro-improvements – small steps towards transformative changes in early childhood care and education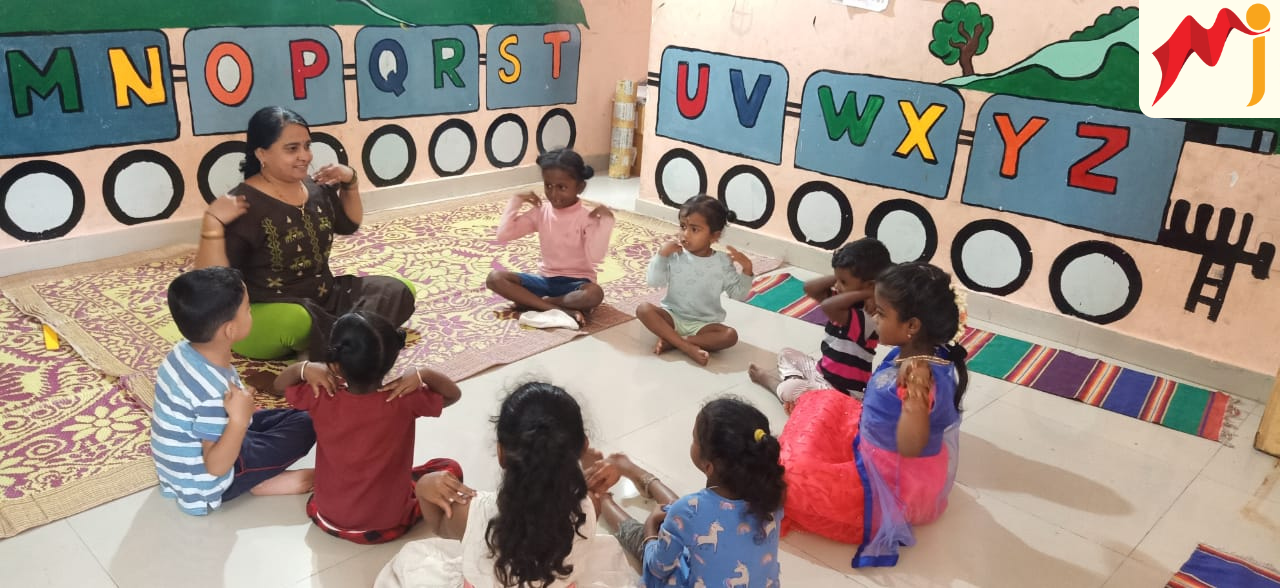 Development sector overall is a complex ecosystem with multiple issues, multiple stakeholders and their perspectives, multiple power dynamics and challenges at all levels. In such a scenario, it is understandable that lasting change requires time and sustained multi-pronged efforts. We all want to see significant outcomes, but can easily be frustrated and overwhelmed by the complexity of it all.
This is where it makes sense to realize that changes are gradual and each step needs to be acknowledged and celebrated. The small changes can be empowering and they can also be more specifically defined than long term impact. Another word to describe them is Micro-improvements. And when we look at 'change' as a series or combination of interconnected micro-improvements, it helps us to stay motivated and committed to the cause and not be overwhelmed. As such, Micro-improvements can be defined as projects or undertakings with small goals that show immediate results. These in turn aid in establishing practices that can be repeated to create a journey of sustainable improvement.
We would like to thank and acknowledge ShikshaLokam who have helped us realize and explore the concept of Micro Improvements in the education space. To further understand the power and scope of Micro-improvements, let's delve into what Makkala Jagriti, a Bangalore-based NGO working in the education sector has been doing in the space of Early Childhood Care and Education (ECCE).
It is well researched and understood that the early childhood years are among the most significant ones in an individual's life in terms of growth and development. It is therefore that quality early childhood education has been rightly recognized by India's National Education Policy (NEP-2020) as the greatest and the most powerful equalizer that can contribute to addressing social inequities. Achieving the vision of quality early education for all children in the country below the age of 6 years requires transformation at multiple levels – the most significant being at the Anganwadi ecosystem level since Anganwadis are the focal points of child development services for most children across the country.
Makkala Jagrit's ECCE program focuses on bringing changes in the Anganwadi ecosystem by working with the Anganwadi teachers to equip and empower them with the knowledge and skills to deliver quality pre-school learning services to children enrolled in Anganwadis. We recognize that it is important to work with all the stakeholders to bring lasting change in the ecosystem and therefore we also engage with ICDS Supervisors, parents of children and the larger community.
While we acknowledge that large-scale sustainable change will require time and efforts of high magnitude, we also recognize what are the smaller changes or Micro-improvements that have taken place in our programs. Needless to add, it is an energizing exercise for us to look at these small wins in the program. We see how they can be a spark that leads to bigger changes.
Here are some stories of Micro-improvements from our ECCE program that have set the ball rolling for us to identify more.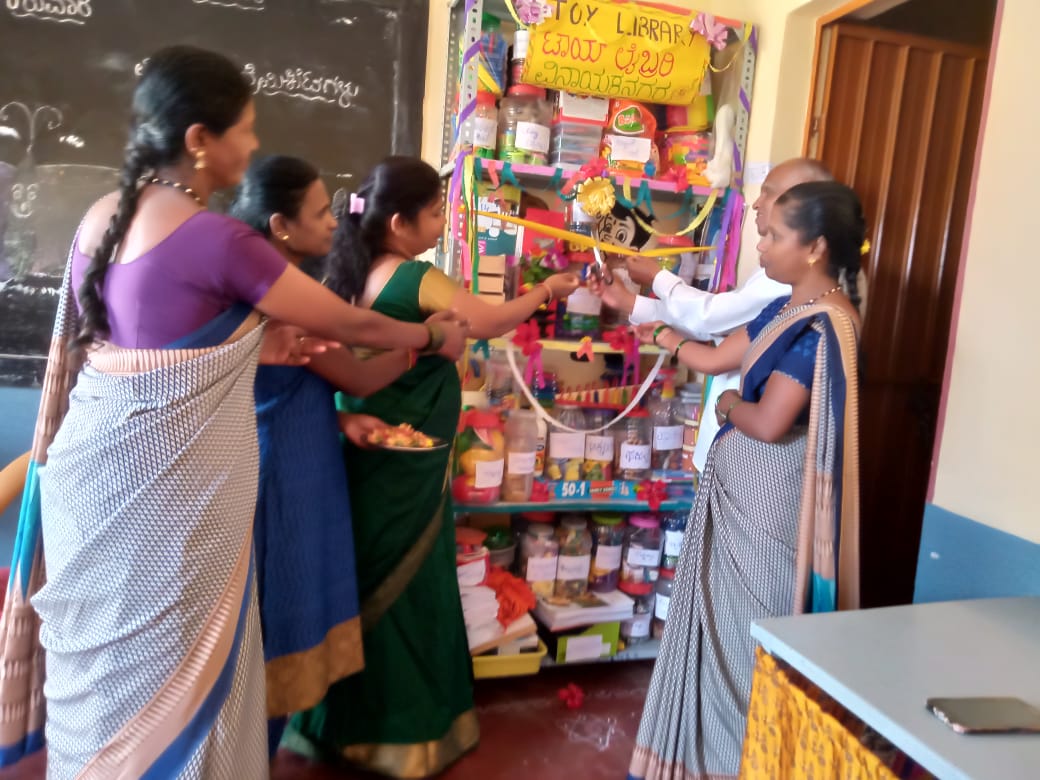 An Anganwadi teacher creates a YouTube channel for Preschool Learning
As the world shut in 2020-21 because of the pandemic, Anganwadis across the country did too. With children stuck at home and having little or no means of learning, it was imperative that efforts needed to be made to reach out to Anganwadi teachers and parents with knowledge and instructions to engage children in pre-school learning activities. And while Makkala Jagrit tied with the government to send out bite-sized video content to Anganwadi teachers and parents, on a daily basis, there was a need for Anganwadi teachers also to step up and reach out to their communities in their own way.
Shobha, an Anganwadi teacher from rural Koppal was one of the thousands of recipients of the daily videos sent by Makkala Jagriti. Throughout the pandemic, she was an avid subscriber of our YouTube channel which was used to send the videos and constantly followed our work. Shobha was also an active participant on the WhatsApp groups that were created for the purpose of disseminating ECCE videos.
But she did not stop there. A highly motivated Shobha started her own YouTube channel to showcase the preschool activities that she did and shared with her colleagues. Now, that is something noteworthy for multiple reasons. Not only is her level of participation and commitment to preschool education exceeding expectations, but when an Anganwadi teacher takes responsibility and does something like this, it is much more relatable and inspiring for other Anganwadi teachers to learn and move forward. The steps taken by Shobha may look small in the information age where there are so many contributors, but they are significant for the community of Anganwadi teachers and a right step in the direction of the larger goal. We salute Shobha for her dedication and innovation. It is also an inspiration for other Anganwadi teachers to reach out to their communities and at the same time become updated with the use of technology. Here is a glimpse of Shobha and her work: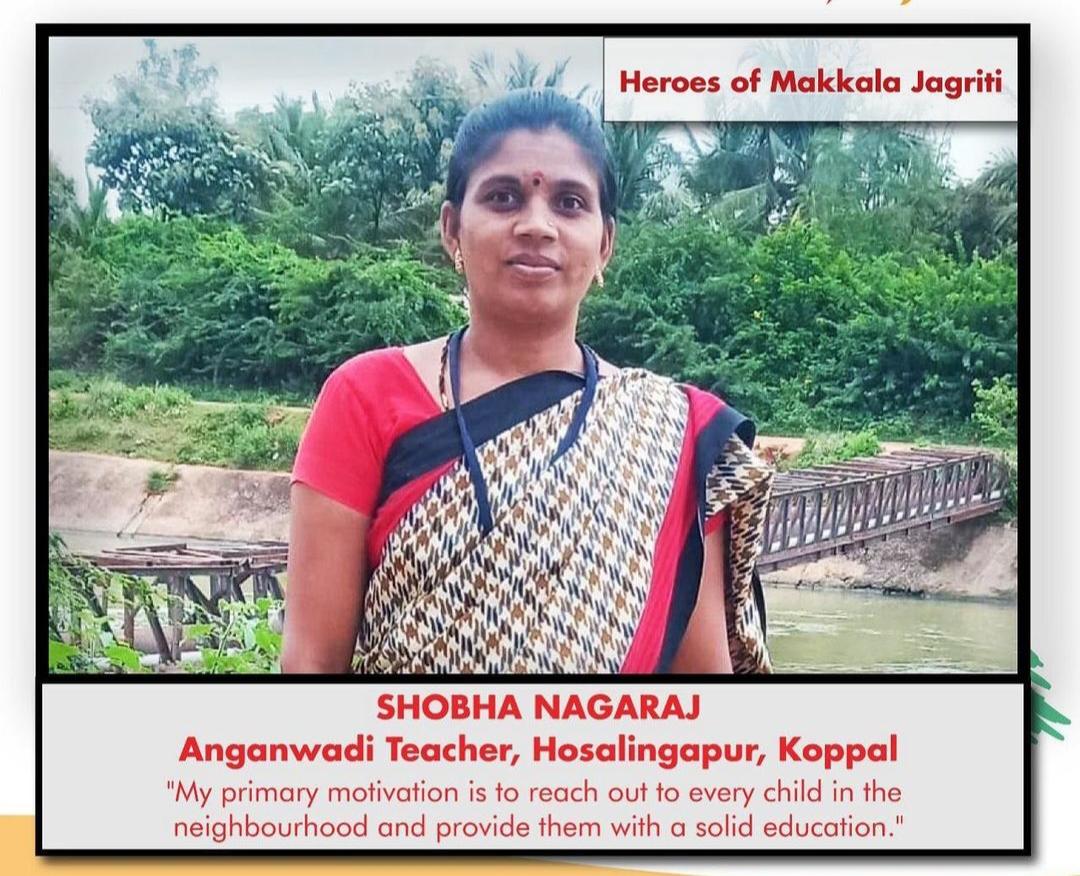 Bringing fathers to the forefront
Early childhood care, preschool activities or anything that involves children in their early years is traditionally seen as the domain and responsibility of the mother or women in general. And this perspective prevails irrespective of class or socioeconomic status. This is also reflected in the fact that Anganwadi teachers have been given guidelines to conduct 'Mothers' meetings' in their Anganwadis and do not have any prescribed agenda of engagement with fathers. The potential role and contribution of fathers in early childhood development seems to be ignored.
Incidentally, various research studies have shown how important fathers play in the multi-area development of children.Fathers' role in younger children's development is something that has started being seen in the last two decades. At Makkala Jagriti as well, we have recently expanded the scope of our program implementation to engage with fathers on their role in early childhood care and education.
Recognizing that fathers' participation in meetings requires overcoming deep societal conditioning, we have sensitized Anganwadi teachers and engaged with the community. We worked with the Anganwadi teachers to understand what timings suit fathers and also using techniques of peer-to-peer motivation. We have conducted different innovative activities including organizing group interactions with children. These are small steps in the large ECCE puzzle, but we firmly believe that fathers' participation adds substance to the larger vision of quality early education for children. And we are seeing the results of persistence. In some Anganwadis, upto 70% attendance of fathers' is seen in the meeting. We certainly hope that these small but focused initiatives can easily be replicated by others and eventually fathers' participation in ECCE just becomes a way of life.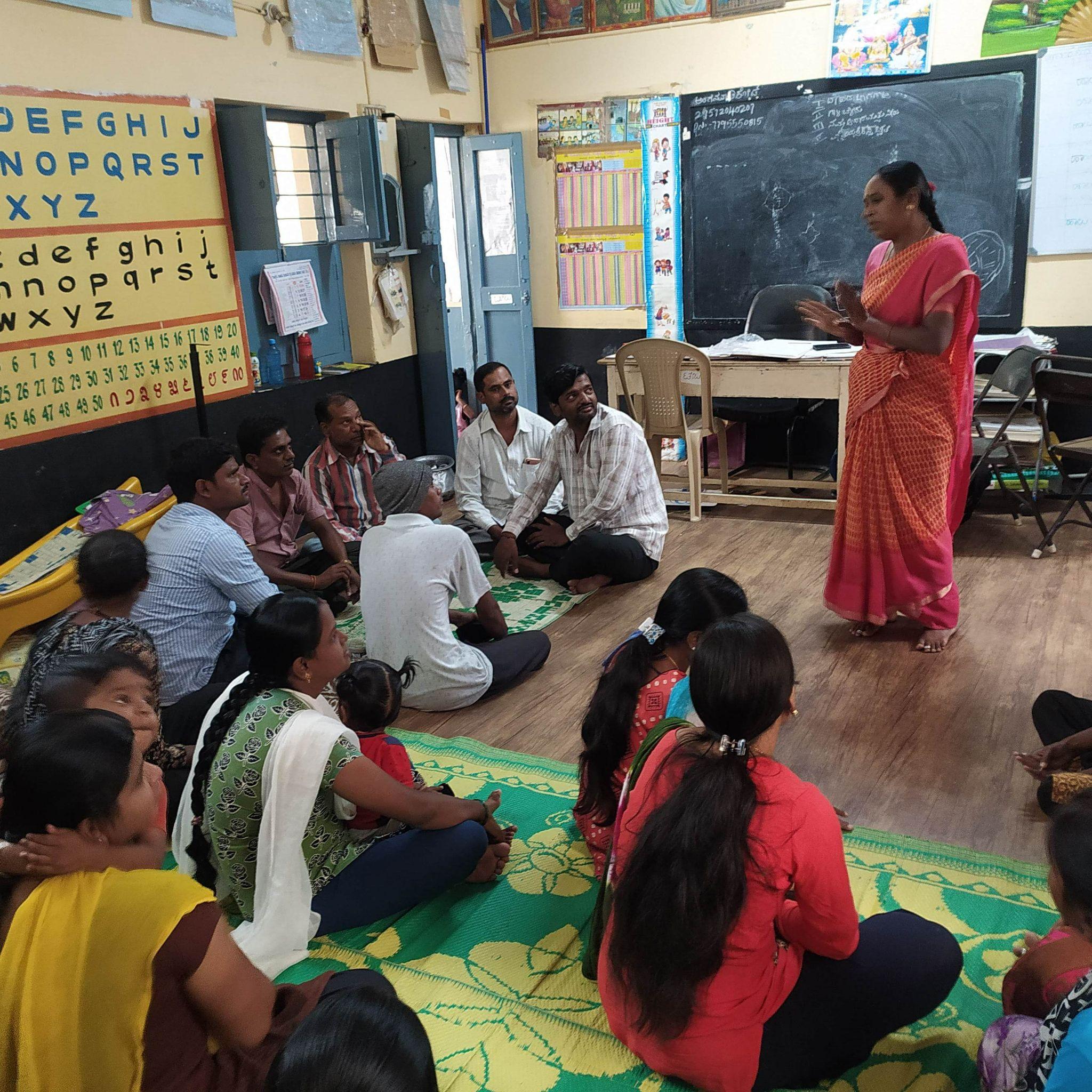 Making Preschool learning a priority in Supervisor meetings
The ICDS Supervisor plays an important role in the Anganwadi ecosystem. At the helm of a circle of Anganwadis, the Supervisor is responsible for monitoring various aspects of implementation of the ICDS (Integrated Child Development Scheme) objectives at the Anganwadi level that include health and nutrition as well as early childhood education aspects. The latter however has not required the attention it requires till recently. In fact there were no structured mechanisms or training for monitoring early childhood learning though ICDS has prescribed and mandated numerous formats and registers to collect various kinds of information and date.
The Supervisor meets the Anganwadi teachers twice every month to discuss the implementation of various provisions under ICDS. Empowered with understanding of the importance of early stimulation activities on young children, one Supervisor started with the small but impactful step of discussing the agenda, and the timetable of preschool learning happening in her circle of Anganwadis. This simple exercise put focus and demanded the need for the workers to conduct simple pre-school activities for the children. This would be the first step to building sustainable habits and practices. Come to think of it, this step is what every ICDS Supervisor needs to replicate and take up to transform the Anganwadi ecosystem into a space which delivers quality early childhood education. We certainly hope that more and more Supervisors take the cue and get started.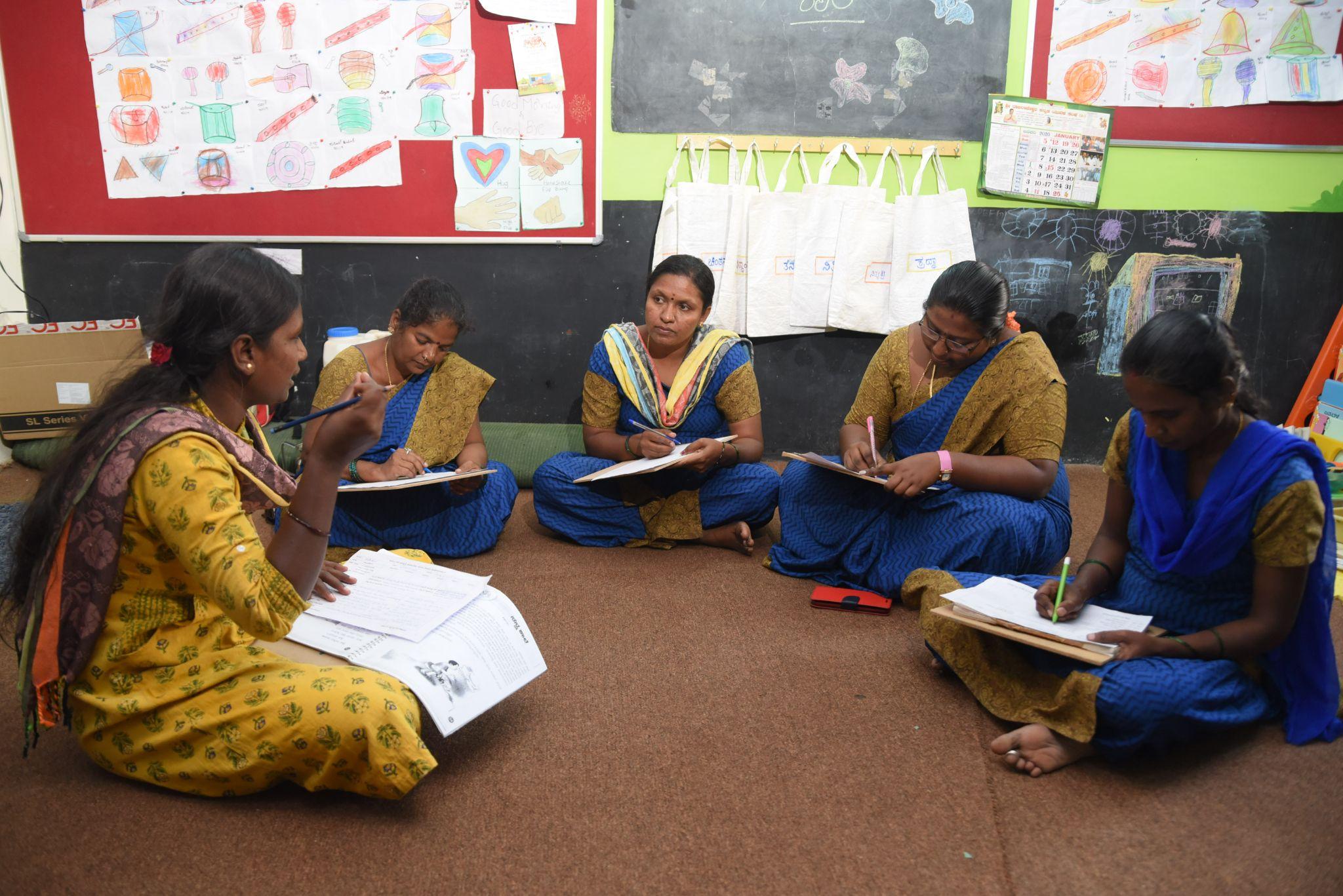 Everyone can contribute
What we see from the above examples is that Micro-improvements can be driven by anybody in the ecosystem and that leadership is not restricted to an organization or someone with large decision making powers. . Something specific can be taken up like a project with little or finite resources, and it can just be a simple incremental change that is seen as a result of it. What's important to remember is that every one of them matters. And that's how lasting change can be effected.
We are happy to note that the Department of School Education and Literacy has recognized and taken up the concept of Micro-improvements and launched an initiative called Vidya Amrit with the aim of encouraging innovations in the form of millions of micro-improvements across the 1.5 million schools in our education system, so that our students get a conducive learning environment. We can only say more power to the efforts and more power to Micro-improvements.